Natural Breast Augmentation & Enhancement with Fat Transfer
If you are looking for a natural breast augmentation we can help you at the Miami Breast Center. Micro-fat grafting is an implant-free fat transfer breast augmentation technique developed by Dr. Roger Khouri. It is simple, less stressful on your body than traditional methods and recovery time is quick.
Our outpatient technique is minimally invasive and has the wonderful side benefit of liposuction. With Dr. Khouri's micro-fat transfer procedure, the patient prepares for the procedure by wearing an external expander called BRAVA, while she sleeps for a few weeks. This soft gel-like brassiere gently suctions the breast area in order to create an adequate matrix for the fat injections.
Our Augmentation Process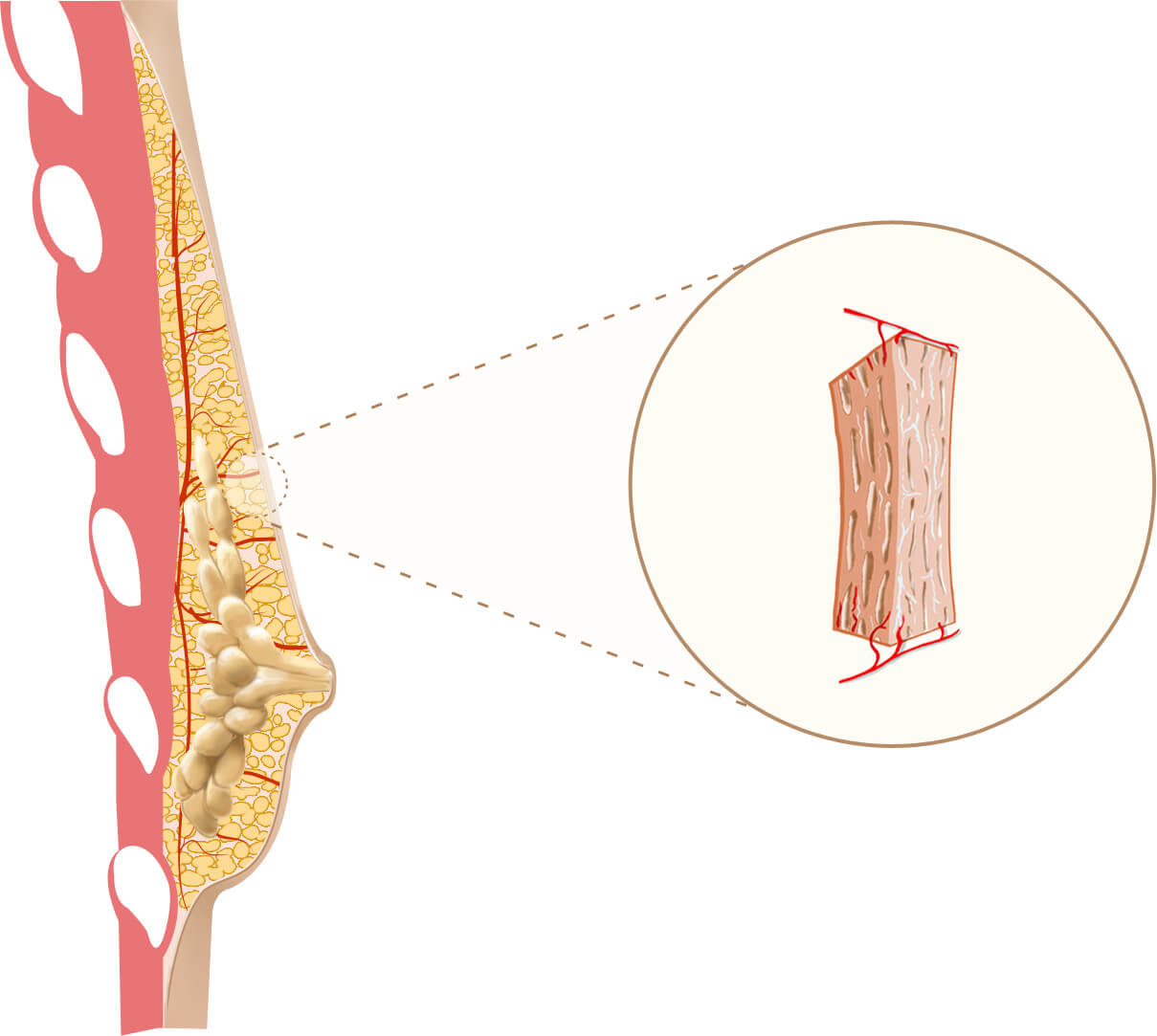 1. Before BRAVA
Original small breast before treatment. Inset shows normal tissue density.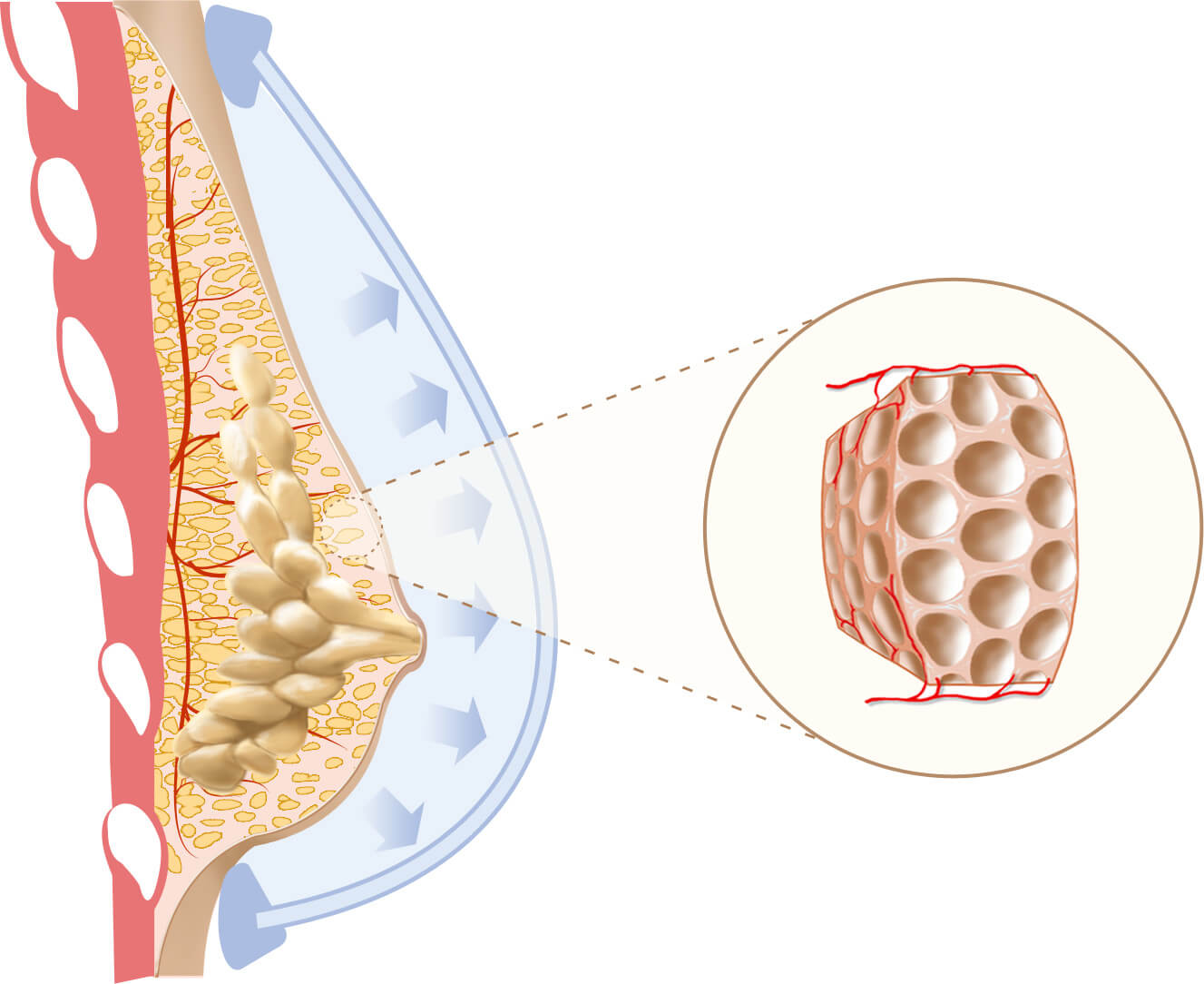 2. Early BRAVA effect
BRAVA system is placed over the breast area when you sleep. Vacuum inside the domes pulls the breast tissue outward to start expansion. Inset shows loosening of the normal tissue density. It's the key for a high rate of fat survival.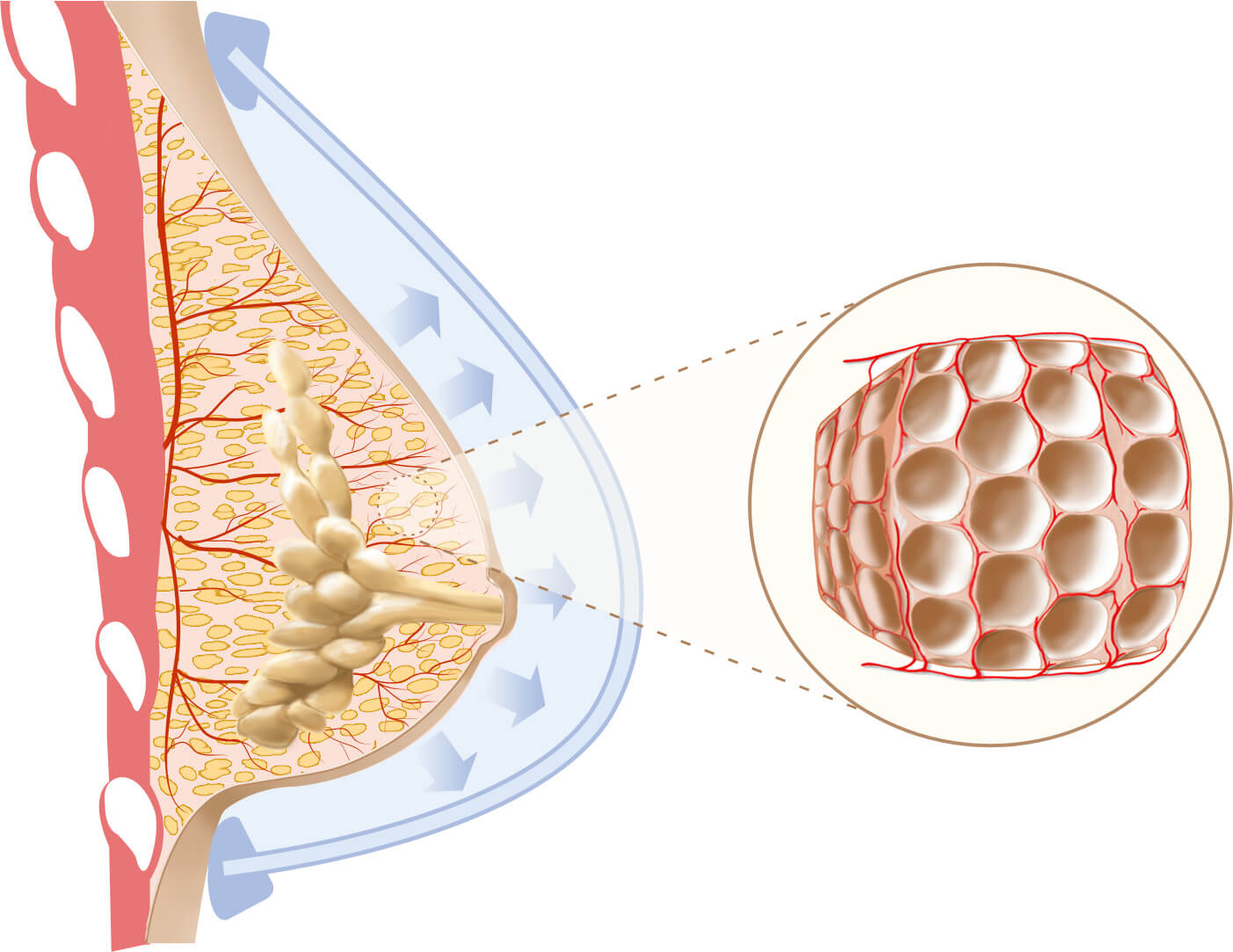 3. Late BRAVA effect
With continued expansion, the breast enlarges even more. Inset shows the loosening up of the tissues as they open up like an expanding sponge to make room for the grafts. Notice that with this rapid expansion there aren't any new fat cells, only a loosening of the normal tissue density with stretched out fibers and tiny new blood capillaries along the expanded structure ready to accept the grafts.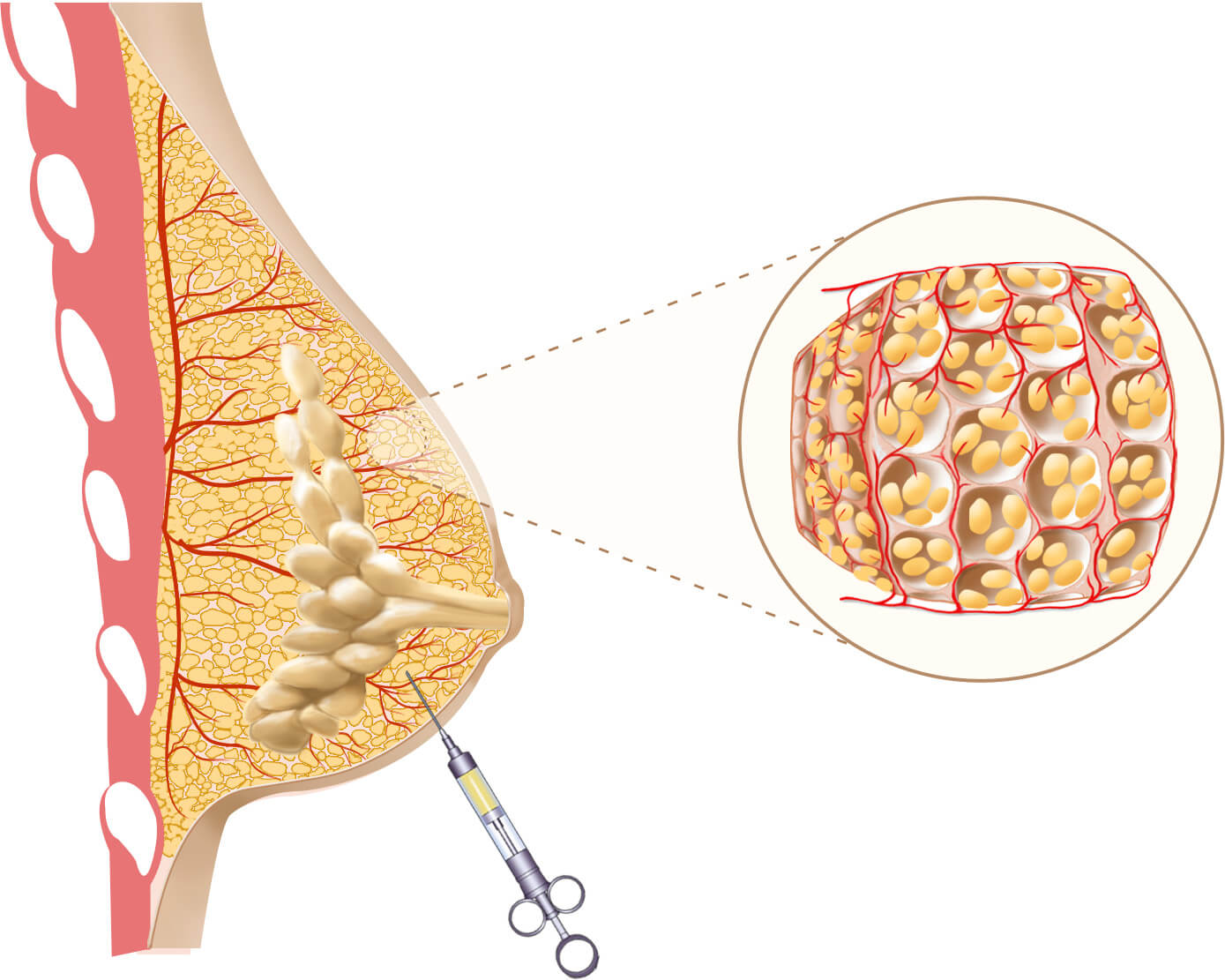 4. Fat Grafting
The expanded space is grafted with fat harvested from your desired body area. No cuts or incisions are made, only needle pokes. The fat fills up the expanded vascular structure and restores the normal cellular density. Inset shows how new blood vessels help keep the fat deposits alive. The breast has been augmented with tissue engineered fat.
Patient Case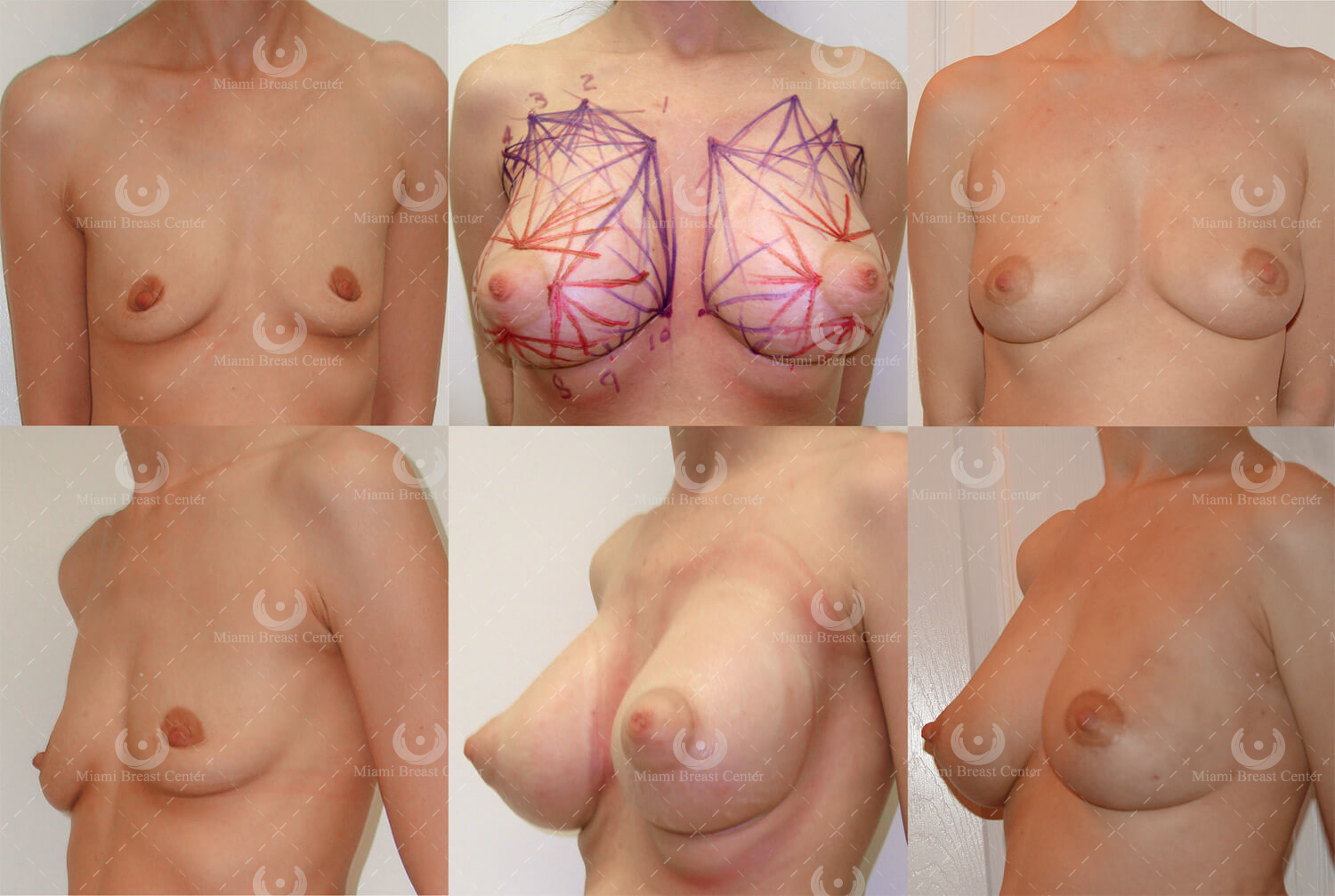 Left: Thirty-year-old woman who wanted a natural breast augmentation with her own fat.
Center (Bottom):
To ensure survival of the large volume of fat needed for the augmentation, she wore BRAVA for 4 weeks and had an excellent BRAVA effect prior to grafting.
Center (Top):
The lines drawn on her breasts indicate the needle stick injection sites and the direction of the multiple cannula passes required to diffusely and evenly fill up the expanded breast tissue.
Right:
Essentially all of the transplanted fat survived. After this procedure, we measured by MRI a 280 mL augmentation per breast with no evidence of fat necrosis.
See More Photos
The Benefits Of Our Procedure
No foreign object in body
Quick recovery
No cuts, no incisions
Liposuction
No implant problems
Minimally invasive
Fat Transfer Process
During the outpatient procedure, Dr. Khouri then removes fat from one area of your body and meticulously injects it back as hundreds of tiny individual droplets in the breast site. These micro-fat transfer (autologous grafts) are harvested by gentle liposuction from the thighs, buttocks and stomach–wherever there is fat to spare. Even skinny patients do extremely well with this procedure. The fat then grows within a matrix of tissue and the breasts enlarge 'naturally', while the patient receives the benefit of liposuction.
By using your own fat, we will fulfill your desire of having larger breasts. New moms also love our procedure, since it is perfect to restore volume that normally dissipates after child birth. As compared to implants, natural breast enhancement techniques such as herbal remedies, creams, foods, and exercise, breast augmentation with fat transfer involves no incisions, no new scars and no foreign objects. You will love your new breasts.
Anesthesia
The procedure is done as outpatient, under general anesthesia and sedation. For more information on anesthesia please visit our Breast Augmentation FAQ page.
Recovery
Average recovery time is 2-4 days, a lot quicker than implant surgery. For more information on the recovery time please visit our Breast Augmentation FAQ page.